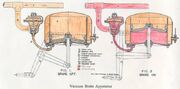 In the mid-1860s a type of brake called the vacuum brake was introduced to railway locomotives. A well known variant of this brake is the
Automatic Vacuum Brake
. The Vacum brake is no longer used as it was replaced by
Compressed air brakes
.
How Braking is Achived
Edit
In its simplest form, the automatic vacuum brake consists of a continuous pipe -- the train pipe -- running throughout the length of the train. In normal running a partial vacuum is maintained in the train pipe, and the brakes are released. When air is admitted to the train pipe, the air pressure acts against pistons in cylinders in each vehicle. A vacuum is sustained on the other face of the pistons, so that a net force is applied. A mechanical linkage transmits this force to brake shoes which act by friction on the treads of the wheels.
Ad blocker interference detected!
Wikia is a free-to-use site that makes money from advertising. We have a modified experience for viewers using ad blockers

Wikia is not accessible if you've made further modifications. Remove the custom ad blocker rule(s) and the page will load as expected.